Skies of Texas Are Upon You at McDonald Observatory
What starts here changes our understanding of the cosmos.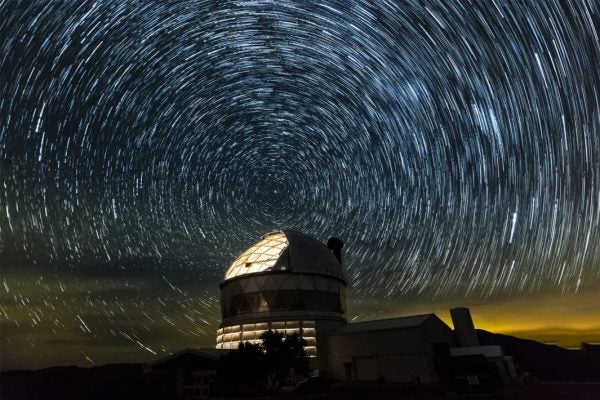 Read the original story here, posted on October 8, 2019.
When the sun sets in West Texas, the Davis Mountains come alive. Javelinas rustle through the shrubs looking for food, moths flit about, and the telescopes of the McDonald Observatory turn to the stars.
West Texas has some of the darkest skies in the United States. The absence of light and the dry desert air allow for perfect sky viewing. And a dedicated local team of staff members at McDonald enables international collaboration.
Every night, the observatory's telescopes and their operators collect images and data from nearby stars and faraway galaxies. The information is immediately beamed to the Texas Advanced Computing Center (TACC) via an underground fiber-optic cable, making what would be a seven-hour car ride to Austin in a split second. Astronomers in Austin, Pennsylvania, Germany and beyond can then survey the sky from computer screens.
In terms of astronomical time, the McDonald Observatory has barely existed. But during its 80 years, its staff and faculty have made essential scientific contributions. Planets outside our solar system have been discovered, passing comets have been detailed and black holes have been measured. The telescopes have captured star births, star deaths and star collisions.
This summer, Sandra A. Catlett, the executive assistant to the director, organized a conference to mark the observatory's 80th anniversary. Staffers, faculty members, funders and fans all traveled to McDonald to attend talks, discuss discoveries and gaze at the stars.
A resolution passed by the Legislature earlier in the year in honor of the anniversary, signed by Gov. Greg Abbott, recognized "the staff and researchers at the McDonald Observatory for pushing the frontiers of technology and science."