WATCH: Record Number of Turtles Rescued at University of Texas Marine Science Institute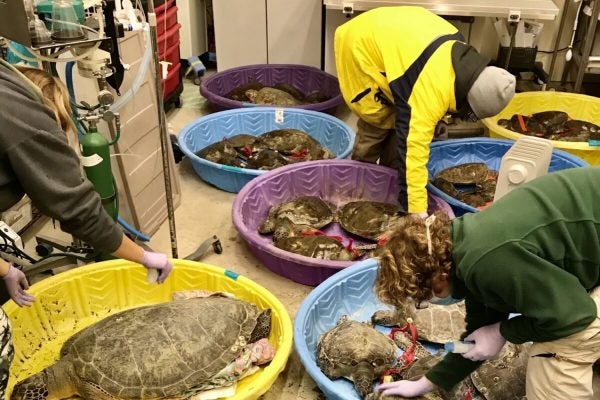 Read the original story here, posted on February 23, 2021.
Winter Storm Uri caused damage and hardship across the state of Texas, and at the Port Aransas campus of the University of Texas at Austin, the work to recover from it included rehabilitating a record number of sea turtles threatened by the cold weather.
Staff at the Amos Rehabilitation Keep (ARK) at The University of Texas Marine Science Institute received 900 live sea turtles under threat from cold-water temperatures that had dipped to levels that are almost always fatal.
"We wish to extend a sincere thank you to all of the volunteers and our partners who have helped collect and transport sea turtles during the freezing and difficult conditions," the Marine Science Institute said in a web post.
Sea turtles are cold‐blooded reptiles that require warm temperatures. When the water dips below 50 degrees Fahrenheit, turtles experience what is known as "cold stun," with decreased heart rate and circulation, leading to lethargy followed by shock, pneumonia and often death. Experts say this month's storm represented the largest cold stunning event in the United States since at least 1980, when the Sea Turtle Stranding and Salvage Network was established. By Monday, February 22, more than 10,600 sea turtles had been recovered along the Texas coast, according to Donna J. Shaver, the Texas coordinator for the network, including the 900 at UTMSI.
As the sea turtles started arriving, the ARK's sea water tanks were quickly filled to capacity. The overflow went to the Institute's heated auditorium, where about 700 turtles were treated.
On Monday, 850 sea turtles were released off shore. A pair of vessels donated by Port Aransas Fisherman's Wharf transported hundreds of turtles at a time for release, 30-50 miles offshore into waters that had warmed to the 55-degree threshold required to prevent a secondary stunning event.