Pecan Street and TACC Launch AI Exploration in Farming Practices
Working group to mitigate the worst impacts of climate change by finding novel, rapid ways to restore soil fertility through atmospheric carbon drawdown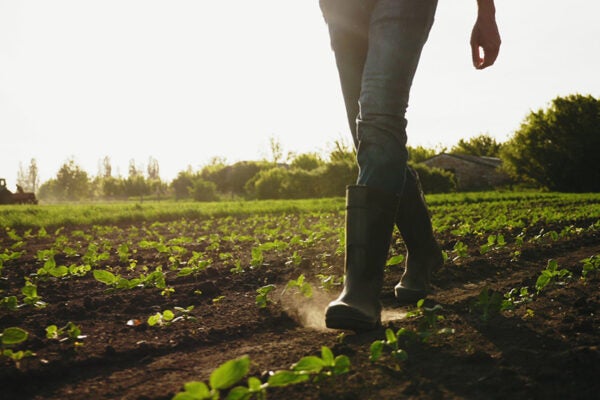 Published on November 2, 2020 by Faith Singer-Villalobos
Pecan Street Inc. and the Texas Advanced Computing Center (TACC) have launched a globally unique AI for Soil Carbon Sequestration Working Group to explore new methods for using artificial intelligence (AI) to overcome the barriers to widespread adoption of climate-beneficial farming practices.
The working group will convene over the next six months and will include industry leaders from agronomy, soil science, economics and data science as well as carbon market managers and AgTech industry leaders.
The AI for Soil Carbon Sequestration Working Group, supported by the John P. McGovern Foundation and the National Science Foundation, is a select group of domain experts from Pecan Street, TACC, the International Soil Carbon Network, Rice University's Baker Institute, Verra, Indigo Ag, Agrimetrics, Lawrence Livermore National Lab, Cornell University, Texas A&M, and the University of Florida.
"The world is at a tipping point where we must simultaneously mitigate climate change and adapt to it," said Pecan Street CEO Suzanne Russo. "We are honored to work with this incredible group of thought leaders to develop solutions that will drive more investment in farmers, secure our regional food production systems, and restore the soil carbon that has been depleted over the past hundred years."
Pecan Street and TACC's joint initiative brings together AI experts and soil scientists with carbon market managers and economists for the first time in a bid to unlock the enormous potential of soils to rapidly drawdown atmospheric carbon. With time running out to mitigate the worst impacts of climate change, the members of this working group are committed to finding novel, rapid pathways to unlock the potential to restore soil fertility through atmospheric carbon drawdown.
Artificial Intelligence capabilities are fundamentally transforming how science is done.
Cropland soils are believed to hold the potential to sequester enough carbon each year to meet 10 percent of the world's Paris Climate Accord emission reduction commitments. The markets required to monetize regenerative farming practices – and therefore make them attractive to farmers – are vastly underdeveloped, partly because of the difficulty of quantifying and verifying the amount of carbon that is stored by various farming practices.
Meanwhile, investments in carbon offset markets have tripled from 2016 to 2019 and are estimated to grow to $200 billion by 2050 (S&P Global Platts). A lack of high-fidelity data and the current expense of soil tests to verify carbon sequestered through regenerative farming practices is preventing many farmers from participating in these markets.
Data and AI have proven to be transformative forces in other sectors.
This working group seeks to explore the potential for AI to reduce the costs of soil carbon sequestration measurement and verification and identify accurate proxy measurements and predictive algorithms for soil carbon content and changes over time. Providing confidence to investors unlocks the potential for new market development and sufficient financial incentives to encourage and adequately compensate all farmers for the valuable social and environmental services they provide.
"Artificial Intelligence capabilities are fundamentally transforming how science is done," said Paul Navrátil, director of Visualization, TACC. "The combination of big data and deep learning unlock new research potential to extract insight from previously impenetrable phenomena. We at TACC are excited to partner with Pecan Street and the Soil Carbon Sequestration Working Group in order to apply these powerful tools to this critical research domain."